European funding project for autonomous goods transport comes to Upper Austria in 2021
To further advance autonomous goods transport, the European Commission has awarded a grant of nearly €20 million under the H2020 Framework Program to a 29-partner consortium to develop and demonstrate autonomous commercial and transport vehicles in harsh weather conditions for use in real-world logistics.
 "The Digitrans test region has brought 2.85 million euros in funding from the European Union to Austria to make the promising technology of autonomous driving in the field of autonomous goods transport suitable for bad weather," says a delighted Eva Tatschl-Unterberger, Managing Director of the DigiTrans GmbH test region. After all, sensors that work perfectly under the Californian sun, for example, must also function reliably in rain, fog and slush in our latitudes.
The contribution of the Digitrans test region to the realization
of autonomous freight transport.
In order for autonomous goods transport to gain a foothold in Upper Austria as soon as possible, research and development will be carried out over the next three years on the basis of a practical example in the field of autonomous hub-to-hub transport, together with the two companies BRP-Rotax und and DB Schenker Österreich and the project partners AIT, the Logistikum of the Upper Austrian University of Applied Sciences, LCM,, and AustriaTech.
On a route of about 600 m, where a conventional truck normally travels every day, a driverless electric transporter with test approval is to travel hub-to-hub between the companies by 2023 – regardless of whether it is raining, snowing, sunny or foggy. For this purpose, the test track in St. Valentin will also be used and, in addition to a 5G and C-ITS infrastructure, a hub zone and Europe's first outdoor sprinkler system will help to test and improve the sensors of autonomous commercial vehicles and transport systems under adverse weather conditions.    
Autonomous goods transport systems and commercial vehicles must function safely without exception, even in adverse weather conditions. The sensor technology for this will be tested and improved over the next few years in a real environment and on the test track in St. Valentin.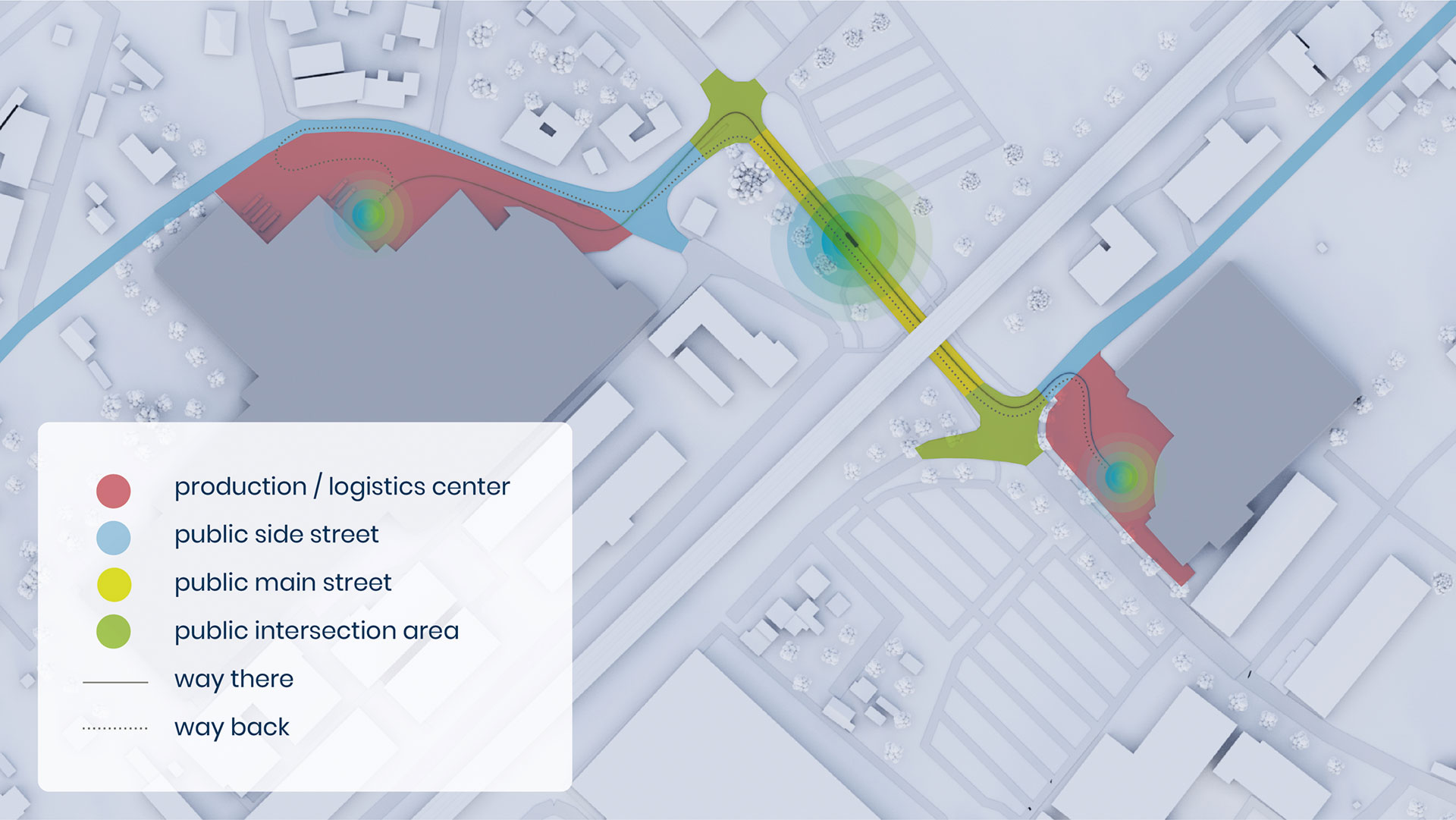 By 2023, a driverless transport shuttle hub-to-hub should be able to operate fully autonomously, absolutely safely and economically on the approximately 600m long section of road outlined.
Future opportunities through the development of autonomous goods transport
Autonomous commercial vehicles can improve the safety and efficiency of goods transport and make vehicle operation more convenient. Particularly positive effects can be expected in the area of automated hub-to-hub transport. For example, in efficiency, flexibility and the issue of sustainability.
The large-scale "All Weather Autonomous Real logistics operations and Demonstrations" (AWARD) project aims to demonstrate forward-looking opportunities and business models in the field of autonomous goods transport to the trucking industry, fleet operators and the entire logistics sector. To this end, the H2020-funded AWARD project aims to contribute to the accelerated introduction of innovative, connected and autonomous goods transport solutions with automated commercial vehicles and autonomous transport hats in Europe and around the world.
Support from expert network around the development of autonomous goods transport
In order to meet the challenges in the field of autonomous goods transport and automated commercial vehicles in harsh weather conditions, the leading experts from a wide range of knowledge areas and industries were brought together across Europe.
Consortium Leader
Commercial vehicle manufacturer
Supplier of automated drive technology
Fleet monitoring and teleoperation
Research Organizations
Company for demonstrations and use cases
Consulting companies
organizations with close ties to the automotive and logistics industries:
The content of this website reflects only the author's view. Neither the European Commission nor the INEA are responsible for any use that may be made of the information it contains.
You might also be interested in
Further Insights
Do you have any questions about the autonomous transport of the future?