On the way to automated freight transport - Insights on project AWARD by Digitrans project manager Hannes Watzinger
AWARD – stands for: All Weather Autonomous Real Logistics operations and Demonstration. The intention of the project is to test real logistics applications efficiently 24h / 7 days a week automated and in all weather conditions. From this, first experiences for the feasibility of automated freight transport applications shall be derived.
In one of the 4 AWARD – Use Cases the promising technology of automated freight transport on public transport sections between the two companies DB Schenker and BRP-Rotax in Upper Austria will be tested and further developed. 
A total of 29 project participants from 12 nations are working together in the AWARD-H2020 project to be able to implement safe and automated logistics operations in all weather conditions.
The route that the automated e-truck should be able to cover is 600m long and is located on public road sections. It consists of several intersections, access roads to factory yards and an underpass. This results in a large number of complex traffic scenarios that the automated truck has to handle absolutely safely in all weather conditions and also at night.
Such a project involves a lot of organizational effort and with each new insight, further challenges arise in the implementation of automated freight transport hub-to-hub.
Digitrans Project Manager Hannes Watzinger has summarized the three most important ones here.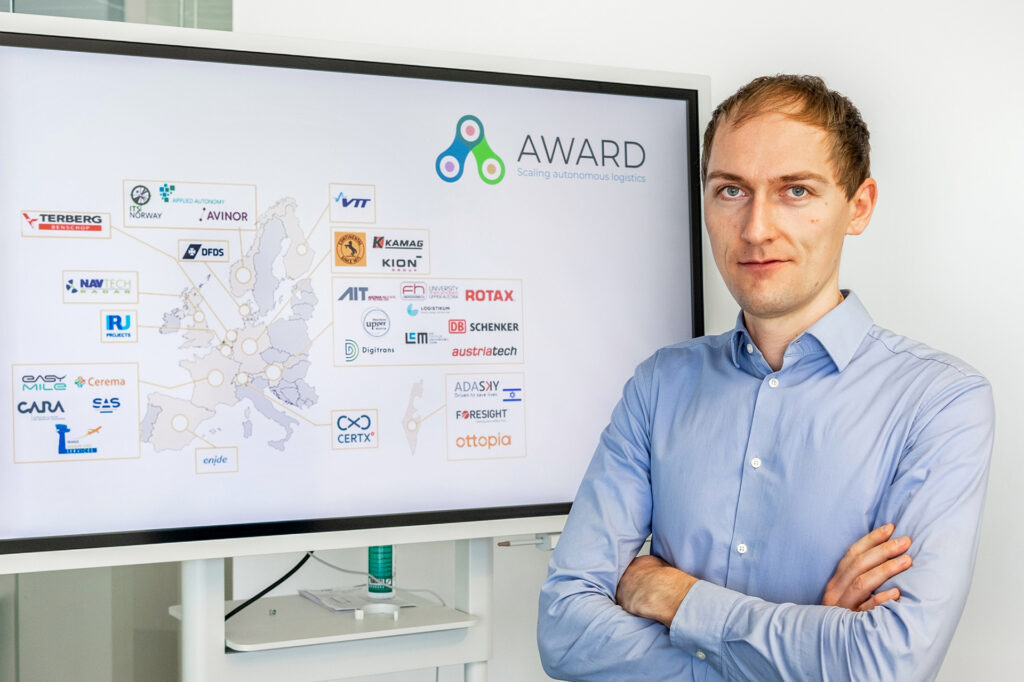 Hannes Watzinger next to the map with the total of 29 AWARD project partners. © DigiTrans GmbH
Challenge No.1 in automated hub-to-hub transport: the weather
The weather and the technology that has to cope with it is one of the main challenges in the AWARD H2020 project. More precisely, it is the various weather conditions that occur, such as rain, fog, snow or reflections from light and sunlight.
These not only affect people's ability to perceive and react, but also have a strong negative influence on the object detection of different vehicle sensors, such as LiDAR, radar and camera systems as they are installed in automated vehicles.
The sensors and technologies vary in their level of performance and need to be tested and improved.
Raindrops affect not only human vision but also that of sensors in automated vehicles. © DigiTrans GmbH
"We at Digitrans have been working very intensively over the past year on the subject of rain and its influence on the sensors. In the process, we researched ways of artificially generating rain that is as close to nature as possible at the push of a button. In order to be able to test efficiently, you need to have the right raindrops and the right rain intensity available in a reproducible way," explains Hannes Watzinger.
The newly created know-how was used to set up a special Outdoor Rain Plant on the Proving Ground in St. Valentin, in Lower Austria.
By the end of 2022, it should be possible there to reproducibly test vehicles and their camera, radar and LiDAR systems in different traffic scenarios and in artificially generated rain.
The steel construction of the 100m long and 13m high outdoor Rain Plant on the Proving Ground in St. Valentin. © DigiTrans GmbH
Challenge No.2 in automated freight transport: creating legal framework conditions in public transport
In addition to the weather, the legal framework conditions are certainly one of the main further challenges. In Austria, automated test vehicles may be tested on roads with public traffic if they comply with and fulfill strict and specific legal requirements.
These requirements and framework conditions are laid down in Austria in the Automatfahr-Verordnung (Automated Driving Regulation) and determine how, where and how fast automated vehicles may be used on which road sections for test purposes. However, the Automated Driving Regulation does not allow general testing, but only very specific use cases! E.g.:
automated minibus (transport max 15 persons, max 20km/h)
automated vehicle for transportation of passengers and goods
(max 50 or 30 km/h; not on highways or freeways!
Symbolic image – Motor Vehicles Regulation Act 1967 – Practical Commentary © DigiTrans GmbH
Before the automated test vehicle can be tested in public transport, an application must be submitted to the Contact Point Automated Mobility, established at AustriaTech. Only then is a time-limited certificate issued for testing a specific use case.
The safety of all road users always has top priority. That is why safety drivers/operators play a central role and are absolutely essential. They know how to behave in critical situations and when to take control of the automated vehicle.
In spring 2022, the 2nd amendment of the Austrian Automated Driving Regulation was published. The Federal Ministry for Climate Protection, Environment, Energy, Mobility, Innovation & Technology thus enables the testing of new technologies around automated vehicles in specific use cases.
The additions to this regulation have now made it possible for the automated vehicle to be tested in Upper Austria with a safety driver. There is still a long way to go before vehicles can be on the road for testing purposes without such an operator, as the release processes also have to be developed.
Challenge No.3 in automated freight transport: efficiency and safety
In automated hub-to-hub transport, the automated vehicle should be able to do many things as independently as possible. At the same time, traffic safety must not be compromised under any circumstances.
In addition, it is necessary not to affect the flow of traffic, which will consist of automated and non-automated road users.
Thus, the vehicle must neither drive too conservatively nor too offensively. To achieve these goals, it is essential not only to redesign the vehicle and equip it with sensors, but also to drive in a generally networked manner and to include the surrounding infrastructure along the 600-meter route.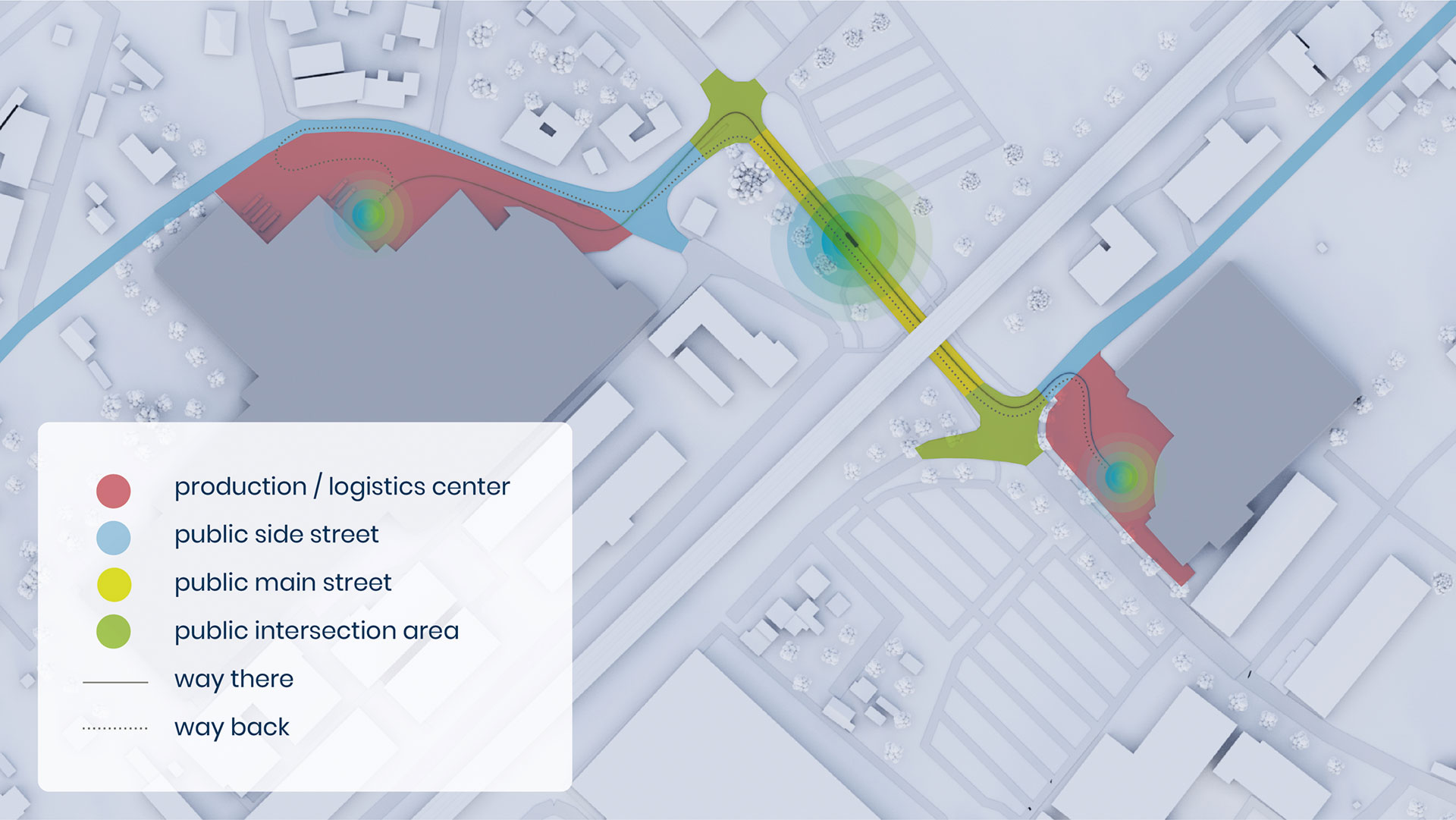 The goal is to be able to operate an automated electric truck on the 600 m long track safely and economically in the future, even without an "operator". © DigiTrans GmbH
All modifications, such as road markings, traffic signs, traffic lights, C-ITS (Cooperative Intelligent Transport Systems) and Car2X communication (car to everything communication) must be designed to maximize traffic safety at all times.
In order to be able to develop the best possible solutions, the state of Upper Austria, the municipality of Gunskirchen and the participating companies BRP-Rotax and DB Schenker Austria were involved. Special attention is also being paid to the needs of the road users and residents involved.
"It is important to involve all stakeholders from the very beginning. This is to ensure that all questions are put on the table as soon as possible and that a collective approach to a solution can be developed," says Hannes Watzinger GmbH.
About the AWARD project - hub-to-hub use case for automated freight transport
In a practice-related use case in Upper Austria, the two companies BRP-Rotax and the freight forwarder DB SCHENKER, as well as the project partners AIT, the Logistikum of the Upper Austrian University of Applied Sciences, LCM, and AustriaTech, are researching and gathering experience on a public traffic section with an automated transport vehicle for a hub-to-hub logistics application that is suitable for everyday use and independent of weather conditions in order to make automated freight transport a reality.
On a route of about 600 m, where a conventional truck normally runs every day, a driverless electric truck with test approval is to run hub-to-hub between the companies by 2023 – regardless of whether it is raining, snowing, sunny or foggy.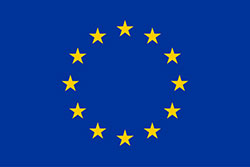 The project is funded by the European Union's Horizon 2020 research and innovation program under Grant Agreement No. 101006817.
The content of this website reflects only the author's view. Neither the European Commission nor the INEA are responsible for any use that may be made of the information it contains.
You might also be interested in
Further Insights
Do you have questions about the autonomous transport of the future?